Tarifica, headquartered in New York, is the leading provider of global telecom plan and pricing data. Our custom software and state of the art data extraction techniques enable our clients to make smart decisions in real time based on insightful, actionable data.
Tarifica's Benchmark Solutions leverage our industry leading data analysis capabilities to produce a rich blend of insights on market trends, competitive pricing and consumer information.
Who Our Benchmark Solutions Help

The Tarifica Methodology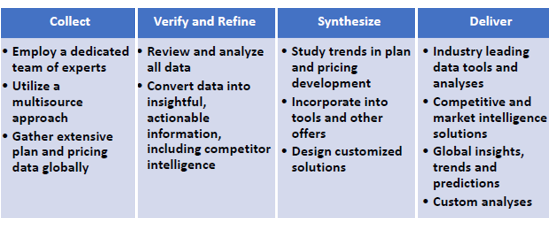 Tarifica Benchmark Solutions Help Our Clients....
Track: market trends
Ensure: a level playing field
Optimize: pricing and promotions
Understand: competitive performance
Stay Ahead: of the competition
Latin American Benchmark(Produced Quarterly)
This benchmark is an excellent tool for understanding mobile plans and prices across Latin America and tracking their continued evolution.
A quarterly deep dive into the mobile plans and pricing of 15 South and Central American countries. With its specialized geographic focus, the LatAmBenchmark comprehensively compares pricing and available services across the region's mobile sector, including data pricing and allowances for zero rated apps such as Whatsappand Facebook.
This benchmark provides the following:
A robust dataset of plans and prices from all major MNOs in the 15 countries covered
Analysis of the most noteworthy findings and operator strategies
Graphical comparison of prices both within and across the countries studied
Quarter-over-quarter identification and analysis of trends
Clients are able to compare many different metrics, including in this sample the cost of mobile plans that come with a social media data allowance.