Global fanconi anemia drug market is estimated to be valued at US$ 574.4 Mn in 2023, and is expected to reach US$ 813.6 Mn by 2030, exhibiting a compound annual growth rate (CAGR) of 5.1% from 2023 to 2030.
Report Coverage
Report Details
Base Year:
2022
Market Size in 2023:
US$ 574.4 Mn
Historical Data for:
2018 to 2021
Forecast Period:
2023 - 2030
Forecast Period 2023 to 2030 CAGR:
5.10%
2030 Value Projection:
US$ 813.6 Mn
Figure 1. Global Fanconi Anemia Drug Market Share (%), By Region, 2023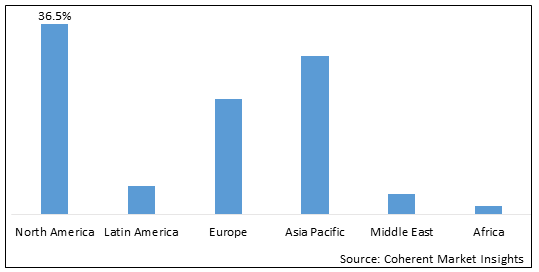 The fanconi anemia drugs are pharmaceutical therapies and treatments that have been created or are currently being researched with the goal of treating the symptoms and underlying genetic abnormalities of fanconi anemia, a rare genetic disorder that is marked by bone marrow failure, congenital defects, and an increased risk of developing cancer. Numerous organ systems are impacted by fanconi anemia. Fanconi anemia results from a defective gene that harms cells, and prevents them from mending damaged DNA. It has an impact on practically all body organs. It is also known as aplastic anemia that is hereditary.
Market Dynamics:
Continuous advancements in scientific research and knowledge about molecular mechanisms are expected to drive the global fanconi anemia drug market growth over the forecast period. Substantial unmet medical need will also continue to fuel growth of the global fanconi anemia drug market over the forecast period. This element motivates efforts in research and development to find efficient therapeutics for the control and treatment of FA. Development of disease-modifying therapies will create new opportunities for the global fanconi anemia drug market over the forecast period. There are opportunities for the creation of disease-modifying medications that can deal with the genetic alterations and molecular mechanisms connected to FA. For instance, on May 17, 2022, Jasper Therapeutics, Inc., a biotechnology company, announced the dosing of the first patient in its sponsored research of the Center for Definitive and Curative Medicine (CDCM) at the Stanford University School of Medicine for the study of JPS191 as a conditioning agent in the treatment of Fanconi Anemia. In accordance with the sponsored research agreement, Stanford Medicine is conducting a Phase 1/2 clinical trial (NCT04784052) utilizing JSP191 to treat Fanconi Anemia patients in bone marrow failure requiring allogeneic transplant with non-sibling donors.
Key features of the study:
This report provides in-depth analysis of the global fanconi anemia drug market, and provides market size (US$ Mn) and compound annual growth rate (CAGR%) for the forecast period (2023-2030), considering 2022 as the base year
It elucidates potential revenue opportunities across different segments and explains attractive investment proposition matrices for this market
This study also provides key insights about market drivers, restraints, opportunities, new product launches or approval, market trends, regional outlook, and competitive strategies adopted by key players
It profiles key players in the global fanconi anemia drug market based on the following parameters - company highlights, products portfolio, key highlights, financial performance, and strategies
Key companies covered as a part of this study include Foresee Pharmaceuticals Co., Ltd., Rocket Pharmaceuticals Inc., Amgen, Novartis AG, Gilead Sciences, Inc. (Kite Pharma, Inc.), Celgene Corporation (Juno Therapeutics), Spark Therapeutics, UniQure N.V, Bluebird Bio, Inc., PTC Therapeutics, Orchard Therapeutics Limited, GlaxoSmithKline Plc., Aurora Biopharma, Inc., Pfizer, Inc. and Autolus Therapeutics
Insights from this report would allow marketers and the management authorities of the companies to make informed decisions regarding their future product launches, type up-gradation, market expansion, and marketing tactics
Global fanconi anemia drug market report caters to various stakeholders in this industry including investors, suppliers, product manufacturers, distributors, new entrants, and financial analysts
Stakeholders would have ease in decision-making through various strategy matrices used in analyzing the global fanconi anemia drug market
Detailed Segmentation:
By Treatment Type:

Hematopoietic Growth Factors
Gene Therapy
Stem Cell Transplantation
Other Therapies

By Age Group:

Pediatric Patients
Adult Patients

By Disease Stage:

Early-stage Disease
Advanced-stage Disease

By Region:

North America
Europe
Asia Pacific
Latin America
Middle East
Africa

Company Profiles:

Foresee Pharmaceuticals Co., Ltd.
Rocket Pharmaceuticals Inc.
Amgen
Novartis AG
Gilead Sciences, Inc. (Kite Pharma, Inc.)
Celgene Corporation (Juno Therapeutics)
Spark Therapeutics
UniQure N.V
Bluebird Bio, Inc.
PTC Therapeutics
Orchard Therapeutics Limited
GlaxoSmithKline Plc
Aurora Biopharma, Inc.
Pfizer, Inc.
Autolus Therapeutics