The market for Hydrazine Hydrate is expected to register a CAGR of over 4% during the forecast period.
In 2020, COVID-19 highly impacted industry growth owing to the raw materials shortage and supply chain disruption. However, the surging application in the pharmaceutical industry propelled industry growth after the pandemic.
Key Highlights
Major factors driving the market studied are increasing demand for polymerization, blowing agents, and growing demand from the pharmaceutical sector.
On the flip side, stringent regulations imposed on hydrazine hydrate owing to its carcinogenic & toxic nature are the major restraints expected to hinder the market's growth.
The growing application of hydrazine hydrate in the agrochemical industry is expected to offer various lucrative opportunities for market growth.
Asia-Pacific dominated the global market with the largest consumption from countries such as China, South Korea, and India.
Hydrazine Hydrate Market Trends
Increasing Demand from Polymerization and Blowing Agents Segment
Hydrazine hydrate is an inorganic compound that is highly reactive and unstable. It is a colorless compound with a pungent smell.
The growing demand for polymer products in various applications in end-user industries such as automobiles, electronic gadgets, and footwear is increasing the hydrazine hydrate demand and propelling its market.
The rising polymer foams demand in the polymer industry is driving the hydrazine hydrate market. Additionally, hydrazine hydrate is used to manufacture rubber and plastic chemicals.
Derivatives of hydrazine hydrate, namely azobisisobutyronitrile, and azodicarbonamide, are used as polymerization initiators and low-temperature blowing agents. Due to this, there is a surge in hydrazine hydrate demand in the polymer industry which is propelling the hydration hydrate market.
Polyethylene terephthalate (PET), high-density polyethylene (HDPE), polyvinyl chloride (PVC), low-density polyethylene (LDPE), polypropylene (PP), and polystyrene/styrofoam (PS) are some of the then majorly used polymers across the globe.
The global demand for polyethylene terephthalate (PET), a thermoplastic polymer most associated with plastic bottles, is projected to reach 42 million metric tons by 2030.
In 2021, the production of plastics amounted to around 391 million metric tons globally. The global polymer industry is expected to grow at a CAGR of over 5% during the forecast period, which would increase the demand for hydrazine hydrate and stimulate its market during the forecast period. Some of the key players within the plastics industry include ExxonMobil, Sinopec, and LyondellBasell.
China is the leading producer and consumer of plastics across the globe. In 2021, China accounted for approximately 32% of the total global production of plastic materials. Moreover, China's share of global plastics production is growing steadily.
Furthermore, India is also one of the largest producers of polymers. In 2021, over 12.1 million metric tons of polymers were produced across India. The surging demand for polymers in various end-user industries, including automotive, consumer goods, electronics, packaging, and others, will likely boost the demand for polymers.
Despite the recent backlash against plastics due to pollution concerns, plastic remains a hugely important commodity in virtually all daily life. Thus, plastic demand is set to continue growing in the coming years, with production set to reach 589 million metric tons in 2050.
Owing to all the above factors for hydrazine hydrate, its market is expected to grow rapidly over the forecast period.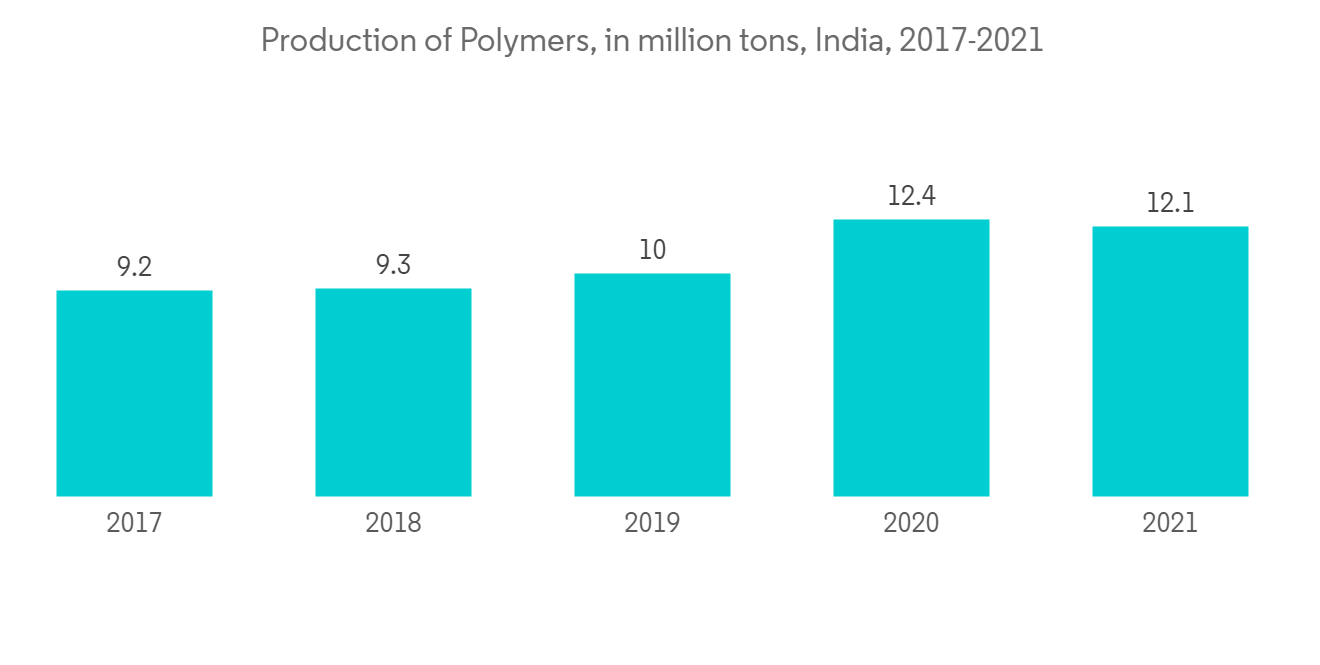 Asia-Pacific to Dominate the Market
Hydrazine derivatives are used in the manufacturing of herbicides and fungicides, as well as plant growth regulators. As per the statistics of newly registered pesticides, 19 fungicides accounted for 48%, 11 insecticides accounted for 27%, four plant growth regulators accounted for 10%, and six herbicides accounted for 15% in 2021. In April 2022, around 229 million metric tons of chemical pesticides were produced in China.
The plastics industry uses hydrazine derivatives to create blowing agents and polymerization initiators. These derivatives are also being investigated for the formulation of polymers.
Between 2000 and 2022, the global high-density polyethylene (HDPE) capacity was at an annual average of 4 million tons. It is expected to increase to 12 million tons in 2023. The rising application of HDPE in the automotive and packaging industries will boost the consumption of hydrazine hydrate.
Hydrazine is a very reactive, difunctional molecule capable of entering into reactions leading to many biologically active compounds. Hydrazine derivatives have proven effective ingredients for several pharmaceuticals, from tranquilizers to the primary drug for controlling tuberculosis. Some ring systems based on hydrazine and frequently found in pharmaceuticals include triazine, pyridazine, triazole, thiadiazole, and pyrazole.
In the water treatment industry, hydrazine can provide corrosion protection throughout the steam generating unit-in the preheater, boiler, or condensate systems. It can also be utilized effectively in closed circulating hot water heating systems.
According to a recent report published by Central Pollution Control Board (March 2021), India's current water treatment capacity is 27.3%, and the sewage treatment capacity is 18.6%. Additionally, according to the Ministry of Jal Shakti of the Government of India, in FY 2022, the percentage of the rural population having access to safe and adequate drinking water within premises increased to 61.52% from 55.23% in FY2 021.
Therefore, these trends above are expected to boost the consumption of hydrazine hydrate in the Asia Pacific region.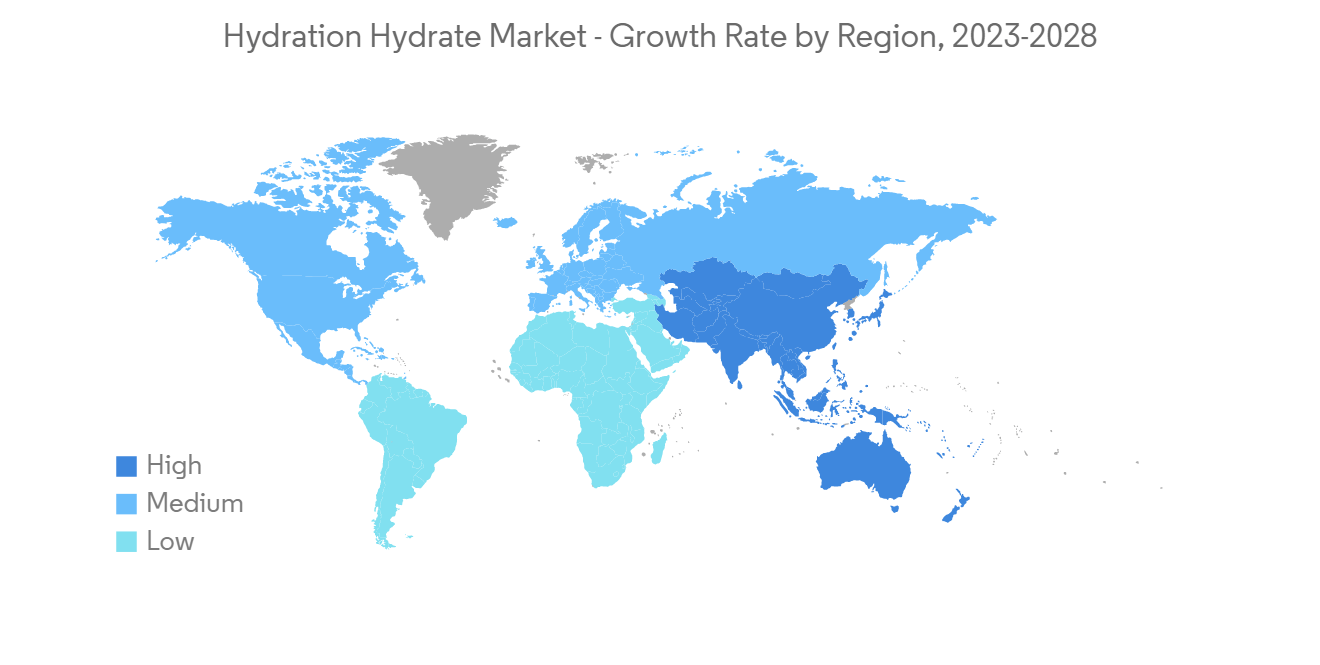 Hydrazine Hydrate Industry Overview
The hydrazine hydrate market is fragmented, with top players accounting for a marginal market share. Major companies in the market include Arkema Group, LANXESS, Lonza, Otsuka-MGC Chemical Company Inc., and Weifang Yaxing Chemical Co. Ltd., among others (not in any particular order).
Additional Benefits:
The market estimate (ME) sheet in Excel format
3 months of analyst support