The Information and Communications Technology (ICT) marketplace is fast moving, continuously evolving, and transforming business across all industry verticals. To keep pace with market dynamics and stay ahead of competitive issues, Mind Commerce clients often require a comprehensive view of telecom and digital technology including analysis, data, and forecasts.
The Mind Commerce ICT Knowledge Center is an annual subscription service that provides research, analysis, and advisory services that addresses a wide range of ICT technology topics including 5G, 6G, AI, AIoT, Big Data, Devices, Immersive Technologies, Industrial Automation, IoT, Robotics, Smart Cities, Wearable Technology and more.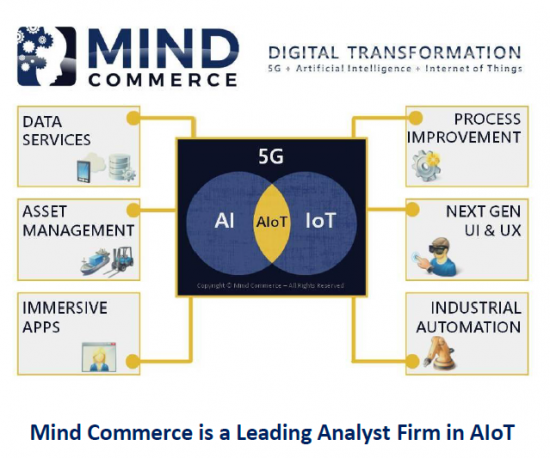 As part of the service, Mind Commerce covers many ICT topics with emphasis on emerging and disintermediating areas. One such topic is the "Artificial Intelligence of Things" (AIoT), which is leading to "thinking" networks and systems that are becoming increasingly more capable of solving a wide range of problems across a diverse number of industry verticals. AI adds value to IoT through machine learning and improved decision making. IoT adds value to AI through connectivity, signaling, and data exchange.
Gain Full access to the entire Mind Commerce Report Collection for One Year
Mind Commerce subscription clients obtain comprehensive insights, data and predictions about AIoT and many other important ICT topics. Customers gain full access to this leading source of digital technology, media, and telecom market intelligence through an annual subscription to the Mind Commerce ICT Knowledge Center service. Alternatively, clients may choose a single area from infrastructure, applications, commerce, content, communications, specific business area, or any combination. The ICT Knowledge Center allows organizations to maximize research budget through subscription pricing, providing a considerable savings as compared to the total list price of reports.
ICT Knowledge Center Subscription Service Features
The following represents subscription core features. New subscription features are added periodically with a goal of continuous improvement and per client requests.
Access all Mind Commerce Research: A subscription grants rights to unlimited report usage and enterprise-wide license to the research collection as a whole including data, forecasts, and ongoing analyst insights. This includes organization-wide rights to use data and information from Mind Commerce research for any internal usage purpose including organizational strategy, presentations, technology, and product/service planning.
Additional Mind Commerce Research Usage Rights: Subscription provides the right for an entire organization to store, read, and distribute a publication within its own business in any medium or format, but not distribute outside the company or business entity. Additional rights, such as reports and white papers to be shared outside the licensed organization will be allowed on a per-request basis and must be authorized in writing.
Mind Commerce Consultation: As part of a subscription service, Mind Commerce is available for on-demand consultation. This includes answering a commercially reasonable number of questions at no additional cost as well as periodic briefings as per customer needs. Additionally, subscription clients are entitled to a discount for contracted consulting services. Mind Commerce provides flexible and customizable consulting services. Clients may choose from a range of options including one-time engagement, support for duration of a project, or retention of a dedicated consultant for a defined period of time.
ICT Knowledge Center Subscription Service Benefits
The following represents subscription core benefits. There will always be unique benefits for a given subscriber. We are willing and available to discuss clients' specific needs.
No Restrictions: Once subscribed, Mind Commerce research becomes available to all employees within an organization. Subscribers gain access to the full Mind Commerce portfolio including thousands of data tables, tens of thousands of pages of analysis, and more than 50 new research reports to be published over the next 12 months.
In-depth Coverage: Mind Commerce provides in-depth coverage of many ICT topics with an emphasis on emerging and disintermediating technologies. This includes analysis of the impact on ICT ecosystems and value chain such as threats to existing players and developing opportunities for both incumbents and new entrants.
Expert Access: Subscribers to the Mind Commerce ICT Knowledge Center gain access to ICT experts, allowing for questions about virtually any topic. This provides the subscriber an opportunity to gain insights about ongoing industry developments.
Customization: ICT Knowledge Center subscribers may suggest topics/titles to the Mind Commerce editorial team. Mind Commerce will make commercially reasonable efforts to include requests as part of its syndicated research.
Value-based Pricing: The Mind Commerce ICT Knowledge Center provides extreme value to subscribers. The collective research portfolio alone represents great value on a per-report average cost basis. In addition, subscribers receive expert access, customization, and discounts to consulting services.
Budget Management: The Mind Commerce ICT Knowledge Center represents a manageable, defined, and cost-effective investment of your market research budget. It also provides a predictable annual expense that may be budgeted by recurring clients.
ICT Knowledge Center Subscription Service Options
The following represents the core subscription options. Additional customization is possible.
All Access: This option provides all Mind Commerce reports produced for a 12 month period. Subscribers also benefit from monthly analyst time and reduced consultancy rates.
All Access Option One: All reports for subscription period. Subscription period is typically one year. Multi-year subscriptions are also available at a discount.
All Access Option Two: In addition to Option One, subscribers choosing Option Two will also receive all reports published for a previous period(s). This means that subscribers will receive all archived Mind Commerce reports for the chosen period of time, which may include all reports within the research repository.
Single Topic Focus: Provides access to the same Mind Commerce content as described above, but only for a single topic. For example, some customers only wish to have artificial intelligence related reports and consultation. Others want only broadband wireless (WiFi, LTE, and 5G) or mobile payments.
Multiple Topic Focus: A multiple topic subscription provides the same benefits as a single topic focus, but for two or more topics. The customer may choose
There is a Mind Commerce ICT research subscription for every need. We have the ability to customize ICT report subscriptions by topic and industry vertical focus. We also provide cross-topic bundles and other combinations. Subscriptions may be customized to an organization's size, budget, and business intelligence needs. Custom packages may include most recent published information as well as older reports, historical data, and forecasts.
An illustrative example of a few recent report titles that subscribers enjoy includes:
Digital Transformation Asia Pacific: 5G, Artificial Intelligence, Internet of Things, and Smart Cities in APAC 2019 - 2024
Biomedical and ICT Convergence Market by Technology, Solution and Region 2019 - 2024
AI Chipsets for Wireless Networks and Devices, Cloud and Next Generation Computing, IoT, and Big Data Analytics 2019 - 2024
Experiential Networking Market by Technology, Use Case, and Solutions 2019 - 2024
Unmanned Systems Technology Market 2020 - 2025
Teleoperation and Telerobotics report 2020 - 2025
Quantum Technology Market: Computing, Communications, Imaging, Security, Sensing, Modeling and Simulation 2020 - 2025
Smart Cities Market by Strategy, Technology, and Outlook for Solutions, Applications and Services 2020 - 2025
Telecom API Market by Technology, Application and Service Type, Stakeholder, User Type, Deployment, and Platform as a Service Type 2020 - 2025
AI in ICT Networking Market by Technology, Infrastructure, Solution, Deployment, Managed Services, and Region 2020 - 2025
AI Chipsets for Wireless Networks and Devices, Cloud and Next Generation Computing, IoT, and Big Data Analytics 2020 - 2025
Artificial Intelligence in IoT (AIoT) Convergence: Technologies, Platforms, Applications and AIoT Services in Industry Verticals 2020 - 2025
Connected Device Market for Consumer, Enterprise, and Industrial IoT Devices by Use Case, Device Type, Application, Region, and Country 2020 - 2025
Cloud Robotics Market by Technology, Robot Type, Hardware, Software, Services, Infrastructure and Cloud Deployment Types, and Industry Verticals 2020 - 2025
Unmanned Aircraft and Systems (UAS) Marketplace: Commercial and Military Controlled, Autonomous, and Semi-autonomous Unmanned Aerial Vehicles (UAV) including Drones and Remotely Piloted Vehicles (RPV) Global and Regional Market Assessment and Forecasts 2020 - 2025
Asset Tracking Market by Technology (M2M/IoT, Edge Computing, Smart Devices), Connection Type (3G, 4G, 5G, WiFi, and WiMAX), Mobility (Fixed, Portable, and Mobile), Location Determination (GPS, RFID, Others), and Industry Verticals 2020 - 2025
Autonomous Vehicle Market by Autonomy Level (Semi-autonomous [Level 1 to 4] and Fully Autonomous [Level 5], Vehicle Powertrain (Conventional [ICE], Electric Vehicle [EV], and ICE/EV Hybrid)), Components, and Supporting Technologies (5G, AI, Edge Computing, Smart Buildings, and more), Globally and Regionally 2020 - 2025
V2X Market for Vehicle to Everything by Connection Type (Cellular and Non-cellular), Communications Type (V2V, V2I, V2P, etc.), Vehicle Autonomy Level, Safety and Commercial Applications 2020 - 2025
Mobile Edge Computing Market by Infrastructure (Platforms, Hardware, Software, Services, APIs), Equipment Category, Deployment Models, Computing as a Service Offerings, Network Connectivity, Applications, Analytics Types, Market Segment (Consumer, Enterprise, Industrial, Government), Industry Verticals, and Region 2020 - 2025
ICT Knowledge Center Subscription Service Pricing
Pricing for the ICT Knowledge Center is flexible as it is designed to meet the custom needs of clients. The typical price range is from as little as $20,000 to as much as $60,000 depending on the options chosen by a given client. Contact your sales representative for more information.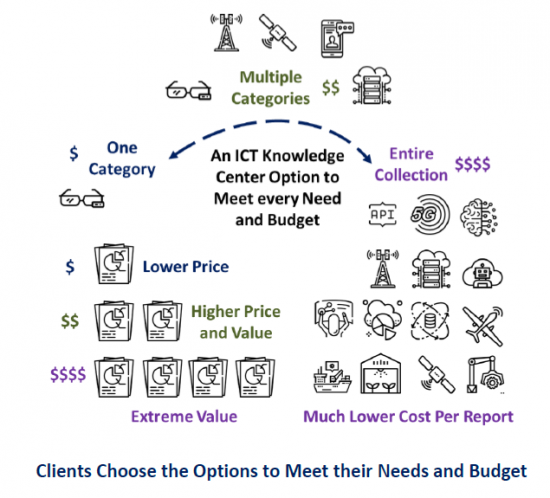 Customers may choose the entire Mind Commerce portfolio or choose any topic area on an ala carte basis from various categories including the following:
Apps and Services: Enterprise and Consumer, Business-to-Business, and Managed Services
Artificial Intelligence: AI technology advancements, solutions, and integration
Broadband Wireless: 5G, 6G, LTE, WiFi, WiMAX, and more
Cloud and Edge Computing: Support of communications, applications, commerce, and content
Data and Analytics: Unstructured Data, Infrastructure, Industry Verticals, APIs and Apps
ICT Infrastructure: Network Function Evolution, Next Generation Apps, and Services Delivery
Immersive Technology: Augmented Reality, Haptic Internet, Virtual Reality, and more
Internet of Things: Sensors, Communications, Applications, and Ecosystem
Smart Infrastructure, Systems, and Processes: Smart Buildings, Cities, Homes and Workplaces
Software Defined Everything: Networks, Applications, OSS/BSS, and Administration
Virtualization: Cloud Enablement, Datacenter Transformation, and Network Functions
Wearable Technology: Devices, Communications, Business Models, and Ecosystem
About Mind Commerce
Mind Commerce is your trusted source for research and strategic analysis focused on digital technologies and the telecommunications industry. Our reports provide key trends, projections, and in-depth analysis for infrastructure, platforms, devices, applications, services, emerging business models and opportunities.
Mind Commerce operates with two overarching principles:
Good research and analysis starts with subject matter experts. Whereas other research houses use "professional researchers" who are typically generalists, Mind Commerce employs analysts who have real-world experience.
The goal of every research project should be to facilitate good decision making. Therefore the focus is on qualitative and quantitative analysis that helps clients make decisions that save money, optimize investments, and identify key trends.
Mind Commerce differentiates itself by focusing on areas that represent emerging opportunity areas for key decision makers. Our research and analysis provides business insights into the impact of emerging, evolving and maturing technologies. Our perspective and expertise allows us to provide a view into the future of technology, communications, applications, and digital media. We predict how markets will evolve, identifying important issues, challenges, and opportunities.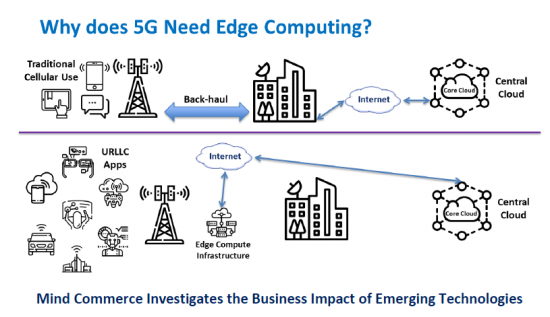 Research Mission
The Mind Commerce mission is to provide customized research, consulting, training, and writing services for the telecommunications and IT industry within our areas of expertise. Mind Commerce clients include manufacturers, developers, service providers, industry organizations, and government. Mind Commerce partners include leading firms in the telecommunications industry. Mind Commerce differentiates itself from its competition by meeting the unique needs of its clients through customized product development and service delivery.
Research Methodology
Mind Commerce employs a combination of primary market research and secondary research analysis. In its primary market research, Mind Commerce leverages and extensive contact list of industry professionals (network operators, software and infrastructure companies, portal companies, media companies, brands and advertising agencies, etc.) for interviews, panel discussions, gathering data, fact checking and independent analysis. Mind Commerce also uses various secondary sources including assumptions and market projections from third parties. Mind Commerce applies its proprietary analysis method to derive its own independent assessment. In addition, Mind Commerce employs Subject Matter Experts (SME) in various fields to evaluate market trends and developments, create and maintain ongoing vision of technology and market direction, and to test independent analysis on an ongoing basis based on industry developments.
Data Sources and Analysis
Mind Commerce gathers qualitative and quantitative data via personal interviews, focus groups, questionnaires, and polls. Mind Commerce constantly monitors a variety of data sources, testing and retesting its independent analysis against opinions and data from other sources. Mind Commerce also uses personal interviews to vet data with industry experts and professionals actually deploying and operating networks, applications, services, etc.
Analyst Team
The Mind Commerce model is to work with leading Subject Matter Experts (SME) in their fields. Mind Commerce selects leading SMEs that have demonstrated prominence in their field who are usually employed, independent consultants, or otherwise engaged within their area(s) of expertise. This is in contrast with other research firms that may high "professional researchers" that may not actually have first-hand, real-world experience and/or direct knowledge about ICT.