Introduction
'E-bike Hub' is a one-stop solution for all the market intelligence you will ever need in the EV industry. The solution helps executives, product managers, strategic planners, dealers, and distributors uncover potential within niche segments and understand competitive positioning.
In its entirety, the Hub provides an in-depth market analysis of e-bikes including all application areas through a granular analysis of country-level data supported by a market data repository, trends, and expert analysis. Data and Insights are available in the form of comprehensive reports as well as excel based data workbooks.
E-Bike Intelligence Hub : Total number of reports : 35
United States E-bike Market
Canada E-bike Market
Mexico E-bike Market
North America E-bike Market
United Kingdom E-bike Market
Nordic E-bike Market
Spain E-bike Market
Germany E-bike Market
France E-bike Market
Italy E-bike Market
Netherlands E-bike Market
Austria E-bike Market
Belgium E-bike Market
Denmark E-bike Market
Norway E-bike Market
Luxembourg E-bike Market
Sweden E-bike Market
Switzerland E-bike Market
Europe E-cargo bike Market
Poland E-Bike Market
Europe E-bike Market
China E-bike Market
India E-bike Market
Japan E-bike Market
Australia E-bike Market
New Zealand E-bike Market
South Korea E-Bike Market
Asia-Pacific E-Bike Market
Brazil E-bike Market
South America E-Bike Market
South Africa E-bike Market
Middle-East E-Bike Market
Global E-bike Market
Global E-cargo bike
Global Speed Pedelec E-Bike Market
30,000+ Reasons to Work With Us
30,000+ Data points published on the e-bike industry
35+ Reports at geography and segment level
9 Product segments
30 Countries from 6 regions
200+ Companies with country-level market shares
Crisp, insightful analysis
Our focus is NOT on word count. We present only the key trends impacting the market, so you don't waste time finding a needle in the haystack.
True Bottom-Up Approach
We study the industry, not just the market. Our bottom-up approach ensures we have a broad and deep understanding of the forces that shape the industry.
Exhaustive Data
Tracking a million data points on the e-bike industry. Our constant market tracking covers over 1 million+ data points spanning 30 countries and over 375 companies just for the e-bike industry.
Convenience
Tables belong in a spreadsheet. We don't stuff our reports with data tables. We, like you, find a spreadsheet better suited for data evaluation. Each of our reports comes with an excel document that contains all data used in analyzing the market.
Transparency
Know where your data comes from. Most market reports today hide the sources used behind the veil of a proprietary model. We proudly present them so you can trust our information.
Topics Covered
Market Estimates
Historical, Current, & Forecasted Demand Analysis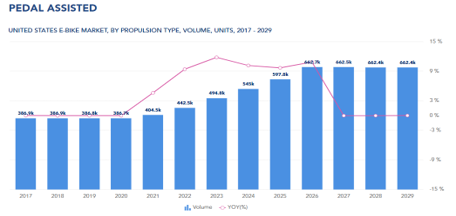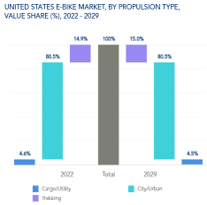 Broken Down into Multiple Segments and Sub-segments Based on Products, End-users, Grades, and E-bike Type
Regional and Country Demand Forecast
Market Trends


Electrification, hyper local delivery, Charging Capability, development in bicycle lanes will continue to drive innovation in E-Bike industry in coming years.
Market Structure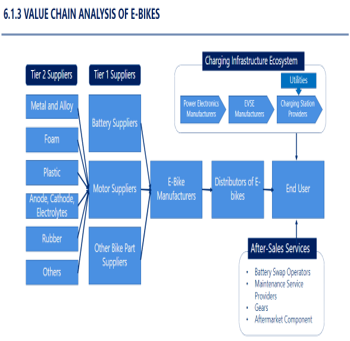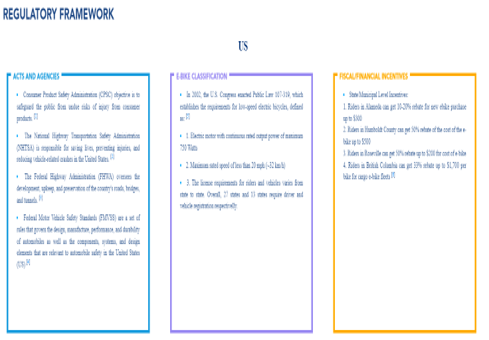 Industry Value Chain with Mapping of Key Players at Each Stage
Competitive Landscape
Detailed Profiles and Market Share of Top Companies at Individual Country and Regional Levels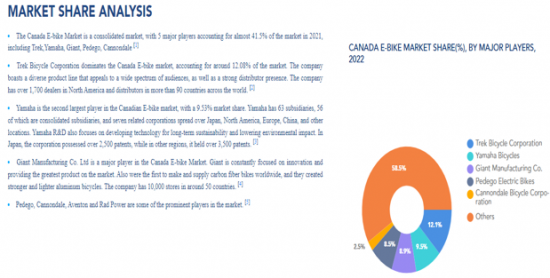 Mapping Key Strategic Moves and Recent Developments of Top Players
E-Bike Type Covered
By Propulsion

Pedal Assisted
Speed Pedelec
Throttle Assisted

By Application

Cargo/Utility
City/Urban
Trekking
Battery Type Covered
Lead Acid Battery
Lithium-ion Battery
Others
Geographies Covered
Americas

US
Canada
Mexico
Rest-of-North America
Brazil
Argentina
Rest-of-South America

Europe

Germany
France
Belgium
Denmark
Poland
Sweden
Norway
Switzerland
UK
Italy
Netherlands
Spain
Austria
Finland
Czech-Republic
Luxembourg

MEA

Saudi Arabia
UAE
Rest of Middle East
South Africa
Rest of Africa

APAC

China
India
Japan
South Korea
Australia
New-Zealand
Rest of Asia Pacific
140+ Companies Analyzed
GROUPE SPORTIF PTY LTD (Haibike)
Scott Corporation SA (Scott Sports)
FRONTISPORT (Gitane)
CYCLES LAPIERRE (Lapierre)
Mondraker Germany GmbH
CYCLE ME (Moustache Bikes)
Cycles Peugeot
Cartrend GmbH (Fischer)
Focus Bikes
KTM Bike Industries
Prophete GmbH & Co. KG
Winora Staiger GmbH
Askoll EVA SpA
Atala SpA
F.I.V. FABBRICA ITALIANA VELOCIPEDI EDOARDO BIANCHI SPA (Bianchi)
BOTTECCHIA CICLI SRL
COLNAGO ERNESTO & C SRL
Evans Cycles Limited (Pinnacle)
Raleigh Bicycle Company
myStromer AG (Stromer)
Ecoride AB
Bridgestone Cycle Co. Ltd
CAMPAGNOLO SRL LA SOCIETA' POTRA' PREMETTERE ALLA DENOMINA ZIONE LA PRECISAZIONE BREVETTI INTERNAZIONALI
Cervélo Cycles Inc.
Orbea S.Coop.
Jiangsu Xinri E-Vehicle Co., Ltd.
Pedego, LLC
Pon Bicycle Holding B.V.
BHBIKES EUROPE SL.
B-Twin
Accell Nederland B.V. (Koga)
MHW Bike-House-GmbH
BROMPTON BICYCLE LIMITED

MHW Bike-House GmbH (Cube Bikes)
DAWES CYCLES LIMITED
Falcon Cycles
Gocycle Eu BV
POWABYKE UK LIMITED (Powabyke)
Tianjin Fuji-Ta Bicycle Co. Ltd
Hero Cycles Limited
Dyson Bikes
NCM Bikes
Norco Bicycles
AIMA technology Group Co. Ltd
Jiangsu Lvneng Electrical Bicycle Technology Co. Ltd
Zhejiang Luyuan Electric Vehicle Co. Ltd
NIU Technologies
Shanghai Lima Electric Bicycle Co. Ltd
Jiangsu Xinri E-Vehicle Co. Ltd (Sunra EV)
TAILING ELECTRIC VEHICLE CO. LTD
Tianjin Baishan Electric Bicycle Co. Ltd
Yadea Group Holdings Ltd
Alphavector India Pvt Ltd (Ninety One)
SJ Electric Vehicles Pvt Ltd (Polarity Smart Bikes)
SK Ebicycle LLP (Being Human E-Cycle)
Cultsport
EMotorad
Batavus
Blix Bikes
Swagtron
Bergstrom
BiXs
BMC Switzerland AG
Canyon Bicycles GmbH
Cresta Bikes
250+ Experts Interviewed
Manufacturers

CxOs
VPs and Directors
Production/ Plant Managers
Product Development Managers
Sales Managers
Technicians

Suppliers
End-users
Associations
Consultants
"The city is contributing 65% rest in urban, 35% going forward this ratio might shift based on infrastructure facilities available, and eventually, urban users are also adopting towards EV. Their own style may register a growth of a tentative 40% to 50%." - Sales Head EV Category, Stryder.
"The percentage sales of Cargo e-bikes in Italy is around 5% in the year 2021. The growth rate of Cargo e-Bikes in Italy would be around 5% in the next coming 4 to 5 years. In the Netherlands, we can find more cargo bikes, but in Italy, they are very few due to bike lane width and conditions." - Global Strategic Head, Cowboy.
Data and Analysis
All Numbers in One Datasheet; All Analysis in an Easy-to-Navigate Report.
E-Bike Market Framework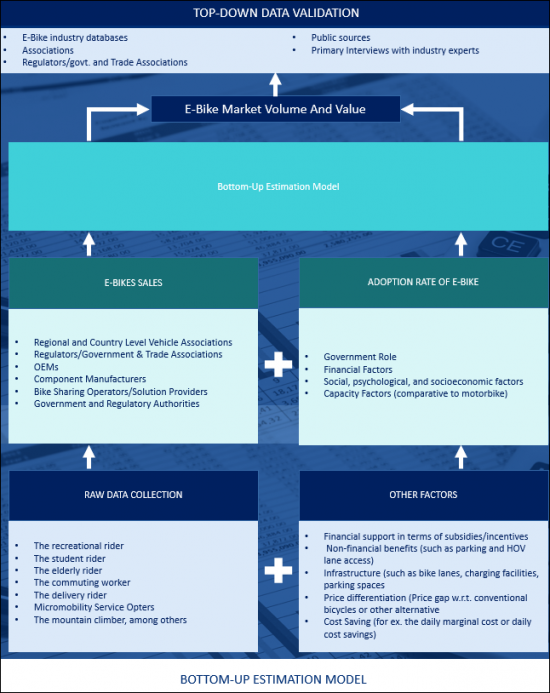 Portfolio of E-Bike Market Solutions
1. MARKET STRUCTURE ASSESSMENT
Macroeconomic analysis
Value chain and supply chain analysis
Regulatory assessment
Technology scouting and assessment*
Sourcing and category intelligence
2. MARKET INTELLIGENCE SUPPORT
Market size and segmentation
Growth opportunities
Market dynamics and new developments*
Go to market strategies
3. COMPETITIVE INTELLIGENCE
Company profiling
Competition assessment incl. market share
Drilled down revenue estimations
Employer value proposition
4. DATA COLLECTION AND ANALYSIS SUPPORT
Data analytics and visualization
Data collection, manipulation incl. web scraping
B2B and B2C surveys and interviews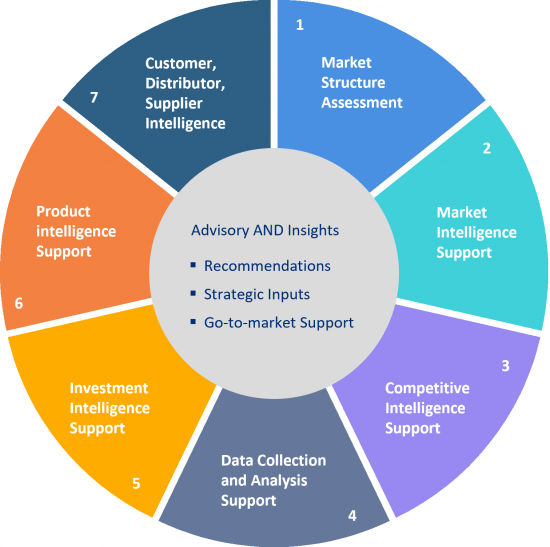 5. INVESTMENT INTELLIGENCE SUPPORT
Project feasibility analysis
R&D and patent analysis support
M&A, JV support - scouting, shortlisting, and target assessment
6. PRODUCT INTELLIGENCE SUPPORT
Import and export intelligence*
Commodity pricing intelligence*
Product pricing intelligence*
Product positioning assessment
New product launch tracker*
Product claims assessment*
Product concept testing
7. CUSTOMER, DISTRIBUTOR, SUPPLIER INTELLIGENCE
Identification of potential partners
Shortlisting/finalization of potential partners
Customer need analysis
Customer's purchase and usage behavior
Customer/partner feedback and satisfaction*
Brand perception analysis*
Key opinion leader insights
*Available as one time effort as well as in the form of periodic updates.