This report provides:
1. LED Industry Demand and Supply Data Base-Backlight / General Lighting / Architectural Lighting / Automotive Lighting / Digital Display / Projection & Horticultural Lighting / UV LED / IR LED / μLEDMini LED Applications
2. LED Player Revenue and Capacity-Chip Market and Player Capacity & Revenue / Package Market and Player Capacity & Revenue / LED Player Revenue Ranking in Each Application
3. LED Industry Price Survey-Sapphire / Chip / LED Package (Backlight / Lighting / Automotive / Digital Display / UV LED / IR LED)
4. LED Industry Quarterly Update-Major LED Player Quarterly Update (EU, US, Japan, Korea, Taiwan, China)5. Micro / Mini LED Market Prospective Analysis-Player Movement, New Technology, Display Week 2019 / Touch Taiwan 2019 Exhibit Report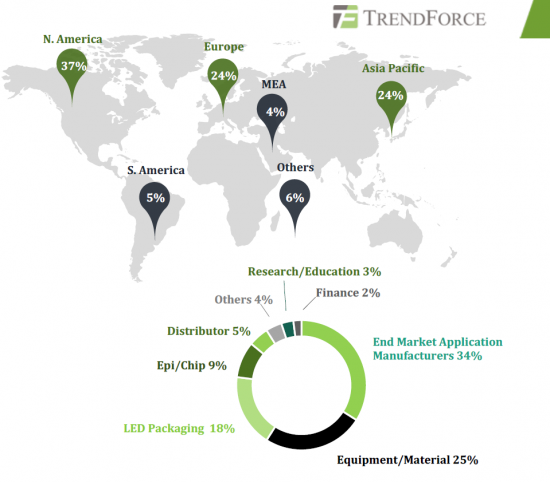 LEDinsideGold+ MemberReport (LED Player Movement Quarterly Update)
LED Package Business Development
LED Chip Business Development
2019 Micro LED and Mini LED Player Movements
Mini LED and CSP LED Market News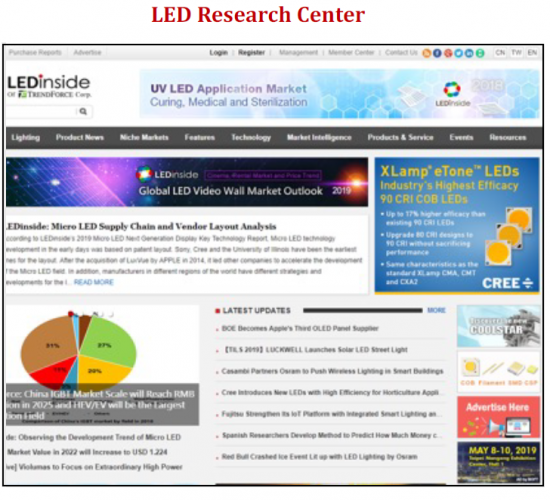 Features:
Financial-Revenue and Profit
Product Strategies and Plan
Product Development
Strategies
Mini LED and CSP LED Market News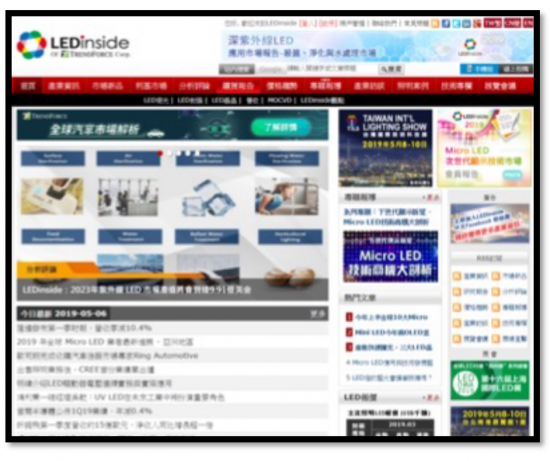 In response to HDR and local dimming market demand, branding vendors will implement Miniaturized LEDin the high-class backlight products, such as TV, Monitors, tablets, VR, and so on. Note: LEDinsidedefines Miniaturized LED includes LED products (3030 LED, 2525 LED, 1010 LED, CSP LED and 100μm-300μm Mini LED) in high-class HDR applications.
APPLE plans to implement Mini LED in 2019 iPad Pro, using xxx pcs of Mini LED and targeting on optical distance (OD) at xxx mm.
CES2019 Update: Samsung 75 inch Micro-LED Module v.s. The Wall

The product specification of The Wall at CES 2019 remained the same, however, Samsung enhances surface process to reduce light reflection and increase contrast; module cutting tolerance are much precise, therefore the splicing line can not been seen.
CES2019 Update: TCL, Hisense, and Asus Released HDR Products
2018 LED Package Player Revenue Ranking
According to LEDinsidesurvey, top ten LED package players in 2018 included MLS (including LEDVANCE), Nichia, OSRAM OS, CREE, Lumileds, Seoul Semi and so on.
*Note: LEDinsideestimated Chinese LED players (Hongli) revenue in 2018 in the table. Moreover, the official financial report of each Chinese LED player will be released in the end of April, and LEDinsidewill compile those information in 2Q18 Gold+ member report.
**MLS revenue includes LED package business and LEDVANCE; CREE revenue includes LED component revenue and lighting business, as well as Samsung LED and Everlight.
1Q18-1Q19 LED Player Utilization Rate
2019 has just begun but this year seems to be a tough one for global LED manufacturers with continuous global market uncertainty caused by the US-China dispute.
4Q18 Market Summaries
USA & Europe
LumiledsLLC: Revenue Slightly Decreased in 2018
OSRAM LichtAG: Bain Capital and Carlyle Group are Considering a Joint Acquisition of OSRAM
OSRAM OS: Revenue Remained Flat in 2018
CREE: LED Revenue Slightly Decreased in 4Q18
Japan
Nichia: Slight Increase of 4% YoYin Revenue
Citizen: Chip LED For Automotive Cluster Remained Steady in 2018
Stanley: Automotive, Infrared LED, and UV-C LED Will Be the Main Business Targets
Rohm: Chip LED Applied in Robot, Factory Automation and Inspection Equipment
Korea
Samsung LED: Revenue Affected By Decreasing Backlight and Lighting Market Demand
LG Innotek: UV LEDand Automotive are the Main Business in 2018-2019
Seoul Semi: 2018 Revenue Growth Reached 10% YoY
Lumens: General Increase in Revenue in 3Q18
Taiwan
Epistar: Waiting for Revenue Contribution from Mini LED and VCSEL
Optotech: Implements VCSEL Research and Study In Response to Market Request
Epileds: Moving Toward Mini LED and Long Wavelength VCSEL Markets
Everlight: Delivered Mini LED in Automotive Cluster and High-Class Backlight Markets
Lite-On Technology: 45mW UV-C LED and 3W VCSEL Release in the Market
Lextar: Focusing on Mini LED Market Development
AOT: Plans to Increase Chinese Backlight Customers in 2019
Unity Opto: Mini LED Backlight Achieved Trail Production in 2H18 at Fast
Harvatek: Successfully Enter TV and Automotive Display Supply Chain
China
San'an: Investing USD 80 Million to Develop Micro LED Chip Production Line
Changelight: Nanchang Expects to Newly Add Capacity by 500,000 Pieces per Month
HC SemiTek: Fund Raising RMB 400 Million for Suzhou Manufacturing Production
Aucksun: Takes Cautious Attitude Towards Capacity Expansion in Next Two Years
ETI: Actively Develop LED for P0.63 and P0.75 Video Wall
Nationstar: Expand LED Chip and Package Capacity with Investment of RMB 1 Billion
Hongli: Investing in LED and Internet of Vehicles
Refond: With LingtaoElectronics' COB Package, Refondto Unveil the World's First COB Mobile
Jufei: Developing Automotive Lighting Market in 2019
MTC: Nanchang Capacity Release is Expected to Effect in 2H19
CF Lighting: Planned to Set up a Package Project with Capacity of 5000KK/M in Nanchang
MLS: Providing Decoration Lighting Products to China Building Decoration Association
US and Europe
OSRAM Licht AG
FY 2019 Revenue to Expect Single Digital Growth
LichtAGAcquired Ring Automotive to Strengthen Aftermarket Business
Japan
Nichia
4% YoYin Revenue in 2018, Benefited From APPLE Monitor
Diverse Product Line, Successfully Maintain High Margin
DPL G3.1 to Be Implemented in APPLE 32 inch iMac in 2Q19
Korea
Seoul Semi
2018 Revenue Growth Reached 10% YoY
Five Business Directions For World's Mega Trend
Taiwan
Everlight
Delivered Mini LED in Automotive Cluster and High-Class Backlight Markets
China
International Companies OEM Overview
Chinese LED Chip Manufacturers' Production Capacity and Expansion Plan
3Q18-4Q18 Chinese LED Package House Capacity Ranking
San'an Optoelectronics
Investing USD 80 Million to Develop Micro LED Chip Production Line
Quarterly Revenue & Product Structure