The number one tool for understanding data centers, network storage, and the nature of interconnection.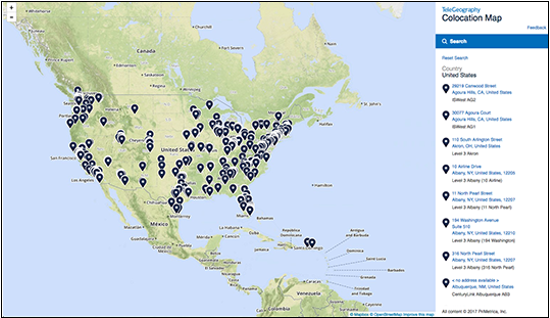 Want to better understand the competitive landscape in locations of interest?
Looking for a bigger perspective of developments in key markets?
Need access to a comprehensive dataset to answer challenging questions?
TeleGeography's online 'Data Center Research Service' is your answer.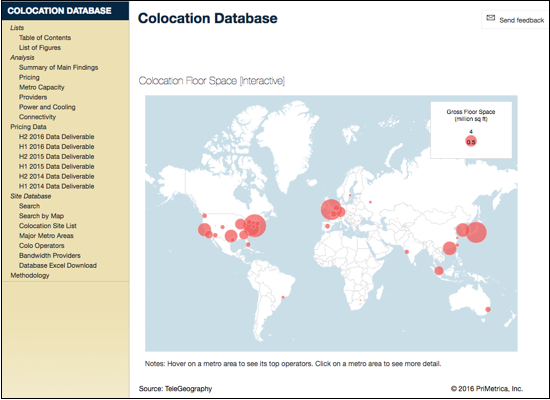 MAP SEARCH INTERFACE
TeleGeography's Interactive Colocation Map depicts over 4,000 active data centers.
Search by country, metro area, city, building address, operator, internet exchange, or bandwidth provider
Select a building to view its address and information about the sites present
PRICING WORKBOOK
Our pricing data includes 32 major metro areas delivered in an Excel workbook that converts prices from local currencies into USD.
It provides the following charting tools:
Comparisons of standard (4 kw) and high-density (10 kw) price per kilowatt and large-scale retail (100 kw) price per kilowatt for retail colocation cabinets by operator + metro area
Comparisons of cross-connect connectivity prices (fiber, Ethernet, and copper) by operator + metro area
Comparisons of cabinet installation rates by operator + metro area
An interactive total cost of ownership model, which illustrates changes in the combined cost of power, space, connectivity, and cabinet installation by operator + metro area
Data tables presenting comparisons of low, median, average, and high prices by metro area
Interactive charts that compare price changes over time
COLOCATION SITE PROFILES
Site profiles include:
Operator contact details
Megawatt capacity
Links to interactive maps
Gross and usable floor space
Listings of carriers and IXs connected to the site
More
MARKET ANALYSIS
This subscription comes with analysis of global data center market trends.
It includes insight on capacity development in key metro areas and comprehensive analysis on major retail operators. Users will also find sortable tables and graphic representations of TeleGeography's colocation data in this section.
Data Center Research Service:
This subscription includes:
Interactive map depicting over 4,000 active data centers
Colocation pricing workbook, which includes 32 major metro areas and converts prices from local currencies into USD
Data center site profiles, including operator contact details, megawatt capacity, floor space, and vital details about the site ecosystem
Analysis of global data center market trends compiled from 1,500 site surveys