Report Synopsis
Thermal conductivity can be defined as the ability of a given material to conduct/transfer heat, the reciprocal of which is called thermal resistivity. The transfer of heat takes place at a lower rate in materials having low thermal conductivity, compared to materials that have high thermal conductivity. Unfilled plastics and polymers are already being used in various areas as replacements for metals and other similar materials because of their advantageous properties. However, due to their limitations in terms of thermal conductivity, wider use of these polymers has been limited. It is here that polymers/plastics filled with thermally conductive compounds, such as metals, ceramics, carbon and minerals take centerstage and operate as highly efficient materials for the chosen application.
Accounting for a share estimated at 30.8%, valued at US$45.2 million in 2022, Asia-Pacific leads the demand for Thermally Conductive Plastics (TCPs) on a worldwide basis. The region is also projected the fastest growing market for TCPs for the period 2022-2028.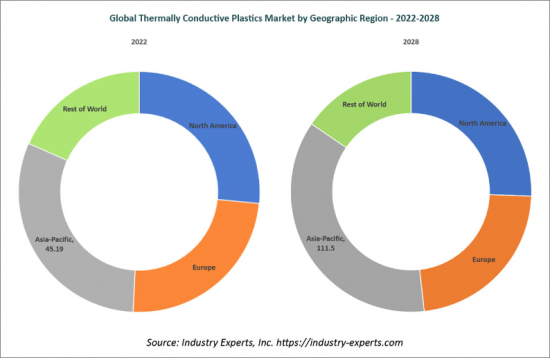 Research Findings & Coverage
Thermally Conductive Plastics global market is analyzed in this report with respect to plastic types and end-use sectors
The study extensively analyzes the market for plastic type and end-use sector of thermally conductive plastic in all major regions for the analysis period
Energy Efficient Techniques for Improving Thermal Conductivity of Polymer Composites Much in Demand
Thermal Management of Automotive Electronics Facilitated by Novel Composites
Polyimide-Modified AlN Fillers in Epoxy for Better Thermal Conductivity in Electronic Encapsulation
Hydrothermal Coating Technique for Preparing Reformed MgO Filler with High Humidity Resistance
Key business trends focusing on product innovations/developments, M&As, JVs and other recent industry developments
Major companies profiled - 26
The industry guide includes the contact details for 336 companies
Product Outline
The market for Thermally Conductive Plastic types studied in this report includes the following:
Polyamide (PA)
Polybutylene Terephthalate (PBT)
Polycarbonate (PC)
Polyetherimide (PEI)
Polyethylene (PE)
Polyphenylene Sulfide (PPS)
Polypropylene (PP)
Polysulfone (PSU)
Other Plastic Types
End-use sectors market analysis for Thermally Conductive Plastics provided in this report comprise the following:
Aerospace & Defense
Automotive
Biomedical
Electrical & Electronics
Industrial
Analysis Period, Units and Growth Rates
The report reviews, analyzes and projects the global Thermally Conductive Plastic market for the period 2019-2028 in terms of value in US$ and the compound annual growth rates (CAGRs) projected from 2022 through 2028.
Geographic Coverage
North America (The United States, Canada and Mexico)
Europe (France, Germany, Italy, The United Kingdom and Rest of Europe)
Asia-Pacific (China, India, Japan, South Korea and Rest of Asia-Pacific)