Executive Summary
Close to 60 thousand hydrogen fuel cell passenger vehicles were sold worldwide by the end of 2022. More than 30 thousand of these vehicles were sold in the past two years - 2021 and 2022 - reflecting significant traction in the uptake of these vehicles,
The speed of deployments has accelerated in Asia-Pacific and Europe. With the exception of California, the United States has fallen behind in implementing this technology, particularly because of a lack of action at the federal level.
Information Trends believes that the only impediment to the adoption of these vehicles in any region is the unavailability of hydrogen stations. The sales of these vehicles are taking place rapidly in regions that have well-deployed hydrogen fueling infrastructures.
More than half of the fuel cell vehicles sold so far have been in Korea because it has the densest hydrogen fueling infrastructure of any major market. Other regions with strong sales of fuel cell vehicles are Japan and California where significant deployments of hydrogen stations have taken place.
Several automakers, both start-ups and established players, have been making inroads into the fuel cell passenger vehicle market. Hyundai's Nexo has been a clear winner among fuel cell vehicles rolled out so far. Nexo's only other major competitor in the market has been Toyota's Mirai. But as the market gains traction, other major automakers are jumping onto the bandwagon.
Honda is preparing to re-enter this market, beginning with the U.S., where it will launch a fuel cell vehicle in 2024 that will be based on its Honda CR-V. BMW will start mass-producing and selling fuel cell vehicles developed jointly with Toyota in the second half of this decade.
The country with the most automakers making inroads into the fuel cell passenger vehicle market is China. Until now rollouts in the country have mostly been technical demonstrations, mainly because of a lack of hydrogen stations.
Figure 1 shows the share of passenger hydrogen fuel vehicles by region as of year-end 2022.
As fueling infrastructures further expand in the second half of 2020s, hydrogen FCVs will begin to garner greater market acceptance, giving them a more pervasive presence in the market. By 2030, sufficient hydrogen fueling infrastructures will be in place in several regions of the world, giving a boost to the market for these vehicles.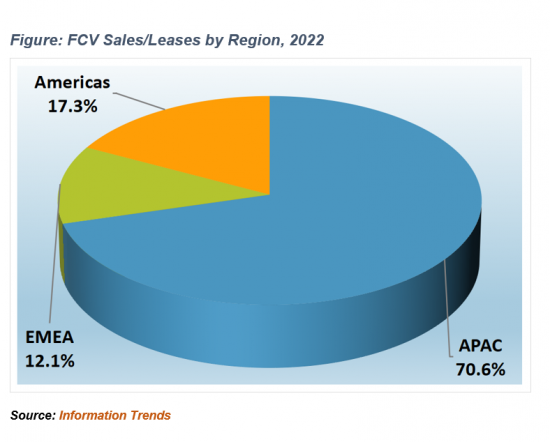 Scope of the Study
Fuel cell technology can be used in virtually every kind of transportation: cars, trucks, buses, forklifts, motorcycles, bicycles, airplanes, boats, submarines, and trams. However, the market is witnessing significant activity in three major types of hydrogen-driven vehicles:
Passenger FCVs
Light-duty commercial FCVs
Fuel cell buses and trucks
The focus of this study is light-duty passenger vehicles, such as sedans, SUVs, and minivans. The study does not cover commercial vehicles.
Unless otherwise stated, all references to hydrogen FCVs in this study imply passenger vehicles. Information Trends defines a light-duty vehicle as one that has a gross weight of up to six metric tons or a North American Class 5 gross vehicle weight rating.
This study conducts an in-depth examination of this emerging market, including an analysis of the strategies of major players with respect to product rollouts and market penetration. The study provides market forecasts for both unit sales/leases and revenue through 2037. The average prices of these vehicles are declining while automakers keep adding more features and enhancements.
Hydrogen FCVs being produced by the automakers fall into one of the following classifications:
Hydrogen hybrids: These are like gasoline hybrids, but instead of gasoline, they use hydrogen. These vehicles generate electricity through regenerative braking which is either used immediately or stored in the battery until it is needed. The FCVs that have been rolled out by Toyota, Hyundai, and Honda are hydrogen fuel cell hybrids.
Hydrogen plug-in hybrids: Like gasoline plug-in hybrids, these vehicles allow the battery to be charged from an electric outlet. The Mercedes Benz GLC F-Cell was the only vehicle to hit the market that was a plug-in hydrogen fuel cell hybrid, but now other automakers are coming out with these vehicles.