The Gene Expression Analysis Market is projected to register a CAGR of 8.9% during the forecast period.
The COVID-19 pandemic is expected to have a positive effect on the gene expression analysis market. The development of therapeutic and preventive strategies requires an accurate understanding of the role that genomes play in the SARS-CoV-2 infection process and progression of COVID-19. The vast field of genomics is well equipped with the technologies needed to help in facing this challenge. A rise in the analysis of gene expression profiles of SARS-CoV-2 receptors for in silico drug discovery for COVID-19 is a high-impact rendering driver for the segment. For instance, according to an article published in the Antibiotics journal, in March 2022, titled " The Impact of Multiplex PCR in Diagnosing and Managing Bacterial Infections in COVID-19 Patients Self-Medicated with Antibiotics", multiplex polymerase chain reaction (PCR), a powerful and efficient tool, is used to diagnose SARS-CoV-2 infections and that has applications for bacterial identification, as well as determining bacterial resistance to antibiotics. Additionally, a study published in the Frontiers in Genetics publications in May 2022 stated that in COVID-19 patients, the gene profiling and analysis of certain common differentially expressed genes (co-DEGs) could be used for the diagnosis and management of the thrombosis and anticoagulant therapy in the COVID-19 patients. The gene expression analysis of the co-DEGs, along with their biological potential functions, protein-protein interactions, functional enrichment analysis, and study of their molecular mechanisms. Thus, the COVID-19 pandemic is leading to an increased demand for gene expression analysis for detecting coronavirus infection among the population.
Certain factors that are propelling the market growth are increasing government funding regarding genomics, rising technological advancements, and growing adoption of personalized medicine.
Gene expression has emerged as one of the key technologies and is widely used at various stages of the drug development process, such as drug discovery and development procedures, clinical diagnostics, biotechnology, microbiology, and others. The limitations in using existing technologies for disease detection and developing precision medicines have increased the demand for newer technologies which is expected to increase the demand for gene expression analysis, hence propelling the market growth. For instance, the use of microarrays during drug development is constrained by hybridization-based detection and the usage of predesigned oligonucleotide probes. However, the development of Cap Analysis of Gene Expression (CAGE), which enables thorough mapping of the promoters and initiation sites of human transcription, has assisted in overcoming the issue. The method also enables cellular mRNA measurement.
Additionally, with the rise in genetic disorders and increased public awareness of personalized medicine, the need for personalized medicine is expected to develop rapidly over the forecast period. Additionally, the increasing focus of companies in adopting various business strategies such as partnerships, collaborations, and financing to develop precision therapies is promoting the use of personalized medicines among the public and is expected to drive the market. For instance, in May 2022, Illumina entered into a long-term strategic collaboration with Janssen Biotech to accelerate the development of precision medicines. Under this collaboration, the company utilizes Illumina's portfolio of resources, including AI-based genome interpretation tools, whole-genome sequencing, and multi-omic analysis services, for co-developing CDx programs on TruSight Oncology Comprehensive assay, a single test that assesses multiple tumor genes and biomarkers in a patient's cancer.
Furthermore, developing technologically advanced solutions and increasing company activities for developing genomic solutions for various diseases are anticipated to boost market growth over the forecast period. For instance, in July 2022, Epic Bio was launched by the CRISPR Pioneer and received funding of USD 55 million. Epic Bio has developed advanced gene expression systems known as the GEMS (Gene Expression Modulation System) platform, which offers precise modification of gene expression. GEMs consist of the largest library of known novel modulators along with computational genomics capabilities and advanced functions, which are used in the designing of guide RNAs for target genes. Also, in November 2021, Emmes, a Clinical Research Organization (CRO), partnered with MedGenome to accelerate breakthrough treatments powered by human genomics for rare disease patients. This partnership helps in bringing more innovative treatments to patients who are suffering from rare diseases.
However, factors such as lack of skilled labor and the high cost of instruments are likely to restrain the market growth over the forecast period.
Gene Expression Analysis Market Trends
Next Generation Sequencing (NGS) Segment Expects to Register a High CAGR in the Forecast Period
Next-Generation Sequencing (NGS) is a technology that is used to determine the sequence of DNA or RNA to study the genetic variations associated with the disease. It is also called as massively-parallel sequencing as it enables the sequencing to determine the sequencing of millions of DNA at a particular time.
The next-generation sequencing is expected to witness significant growth over the forecast period owing to the factors such as an upsurge in the use of NGS technology in clinical diagnosis, speed, cost, and accuracy of the sequencing method. In addition, the advantage over NGS, which provides precision results from the low sample input, over Sanger's sequencing method is also driving the market growth.
The increasing use of next-generation sequencing technology in various applications such as biomarker discovery, oncology studies, and personalized medicine is the key factor driving the market growth. For instance, the fast emergence of next-generation sequencing technology has revolutionized the field of genomics and medical diagnosis and has changed the traditional model of a gene-by-gene approach to syndrome-based panel sequencing, diagnostic exome sequencing (DES), and diagnostic genome sequencing (DGS), precision model. According to the Centers for Disease Control, 2021, it is projected that more than 60 million people will have their genomes sequenced by 2025 worldwide as countries have taken the initiative to sequence large populations. Additionally, Cell-free plasma next-generation sequencing (cfNGS) is used to detect the infection caused by viral, bacterial, and fungal agents by detecting pathogen DNA in the blood. Furthermore, the Cell-free plasma next-generation sequencing has been used in adults with sepsis, oncology patients, and healthy children with community-acquired pneumonia. Thus, the increasing use of next-generation sequencing technology in various diseases is expected to increase segment growth over the forecast period.
Furthermore, numerous initiatives undertaken by universities, academic and research institutions, and research establishments for utilizing next-generation sequencing technology in identifying the root cause of diseases are likely to propel the segment growth. For instance, in December 2021, Roche launched the AVENIO Edge System to advance next-generation sequencing (NGS) technologies. Similarly, in January 2021, Cerba Research launched two COVID-19 exploratory tools, PCR-based and Next-Generation Sequencing-based, to enhance research for vaccine development against infectious diseases, including COVID-19. The whole-genome sequencing of respiratory viruses and SARS-CoV-2 was greatly simplified using the next-generation sequencing-based test. Such developments are a major boost to clinical studies and organizations progressing with next-generation sequencing as their basis of innovation.
Thus, increasing use of next-generation sequencing technology and rising initiatives by companies, universities, and research institutes for utilizing next-generation sequencing in developing effective treatments and therapies for diseases are expected to boost segment growth over the forecast period.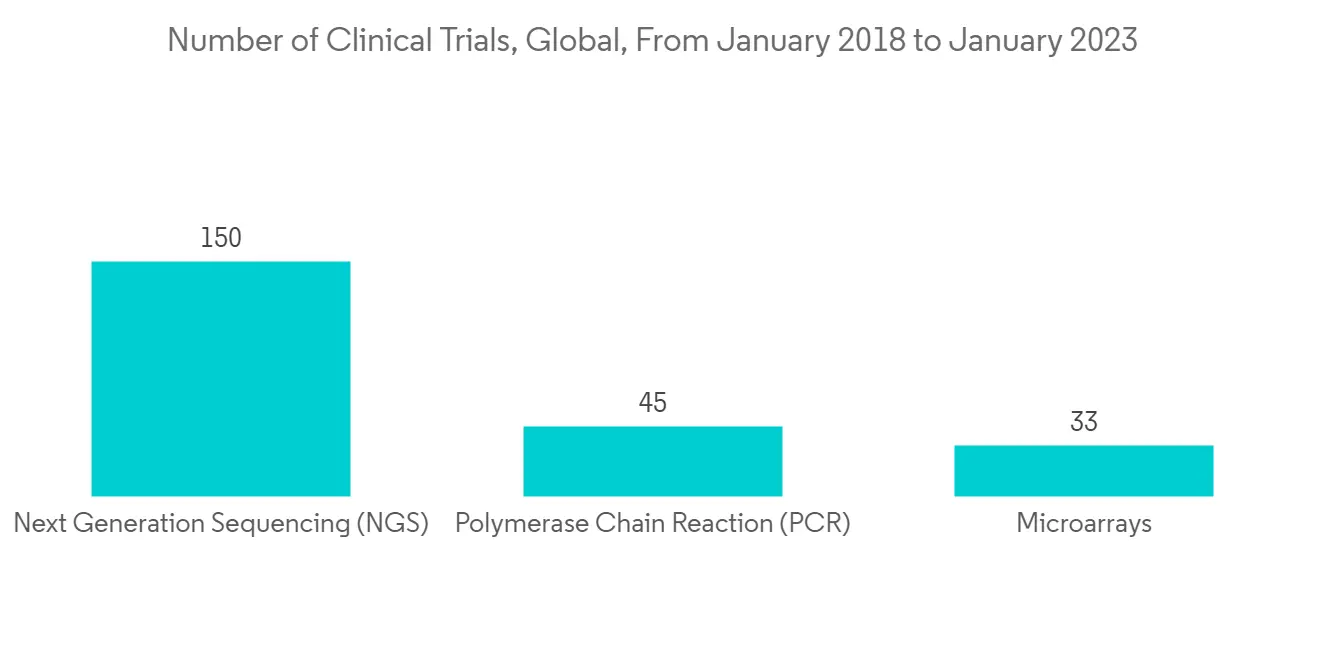 North America Dominates the Market and Expects to do Same in the Forecast Period
North America dominates the global gene expression analysis market and is expected to maintain its dominance over the forecast period. This growth can be attributed to rising investment and increasing research and development activities toward the development of gene therapy, especially in the United States. In addition, factors such as the increasing focus on gene expression studies, government initiatives, and the availability of funding for next-generation sequencing (NGS) research are driving the growth of the gene expression analysis market in North America.
The rising funding by research institutes, companies, and universities for next-generation sequencing is also contributing to the growth of the market in the region. For instance, in August 2022, the Department of Health and Human Services announced funding of funding opportunity announcement (FOA) for innovative research and study of structural birth defects with the use of human translational/clinical approaches (genomics, metabolomics, proteomics, etc.) and animal models. Some of the research areas covered in the FOA included the identification of the associated modifier genes which impacts the variability and susceptibility of the structural birth defects gene expression and the study of the altered gene expression and epigenetic factors (effectors of structural birth defect) and imprinting.
Moreover, the increasing company focus on research and development activities for developing gene therapy products, as well as methods that involve gene expression analysis and the rising adoption of various business strategies such as product launches, partnerships, collaborations, and acquisitions, are also contributing to the growth of the market. For instance, in May 2022, Bio-Rad Laboratories, Inc. launched its new CFX Duet Real-Time PCR System, which offers singleplex and duplex quantitative PCR (qPCR) assays. The system would enable multiple gene expression analyses and precise quantification analysis of up to two targets in genotyping without using dye. Also, in December 2021, Microbix Biosystems launched single-unit swab-formatted control to their range of Quality Assessment Products ('QAPsTM'), which simultaneously supports PCR tests for SARS-CoV-2 ('COVID'), Influenza A ('Flu A'), Influenza B ('Flu B'), and Respiratory Syncytial Virus ('RSV'), four of the most frequent causes of viral infectious respiratory infection worldwide. Such initiatives are anticipated to increase the demand for gene expression analysis, thereby contributing to market growth. Similarly, in November 2021, Regeneron Pharmaceuticals expanded the research term of its strategic partnership with Decibel Therapeutics, to discover and develop gene therapies for hearing loss.
Thus, due to the above-mentioned developments, the market is expected to witness significant growth over the forecast period in the region.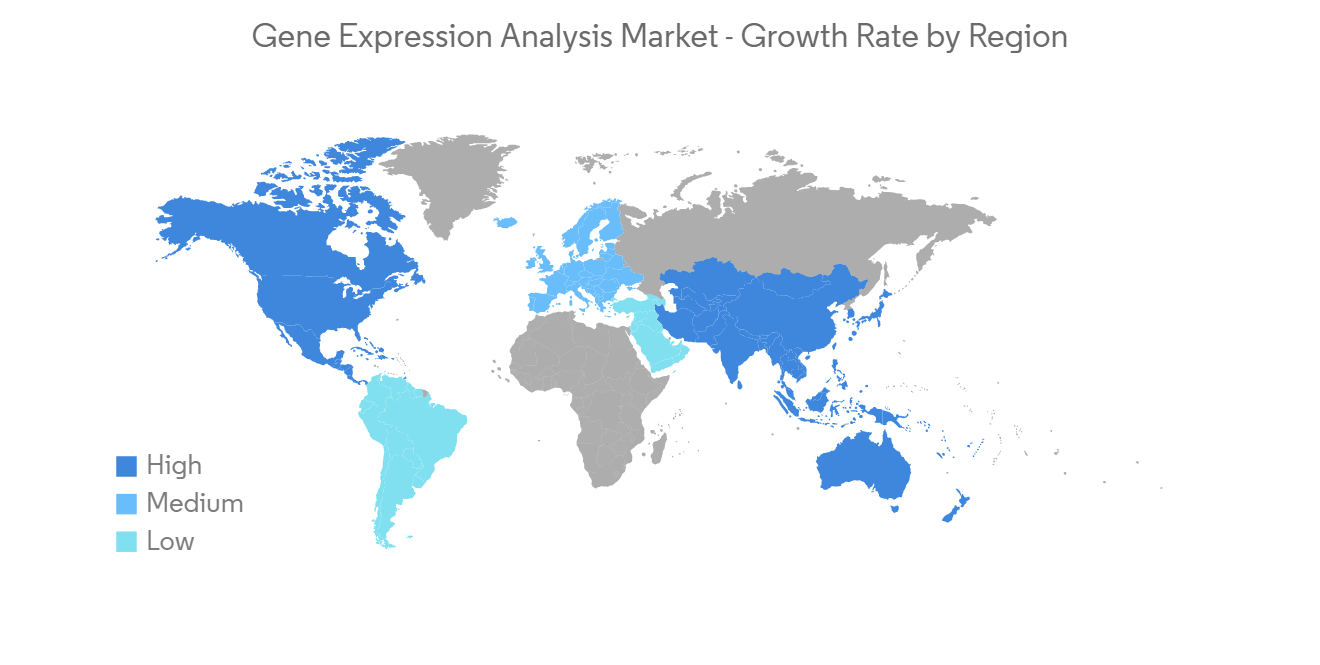 Gene Expression Analysis Industry Overview
The market studied is moderately consolidated, owing to the presence of many small and large market players. The key players are adopting different growth strategies to enhance their market presence, such as partnerships, agreements, collaborations, new product launches, geographical expansions, mergers, and acquisitions. Some market players are QIAGEN, Quest Diagnostics Incorporated, F. Hoffmann-La Roche Ltd, Illumina, Inc., Novogene Corporation, PerkinElmer Inc., Bio-Rad Laboratories, Thermo Fisher Scientific, Inc., Agilent Technologies, Promega Corporation, and Luminex Corporation. Regional and service portfolio expansions and mergers and acquisitions are key strategic undertakings adopted by these players.
Additional Benefits:
The market estimate (ME) sheet in Excel format
3 months of analyst support