The Europe Bicycle Market size is expected to grow from USD 25.08 billion in 2023 to USD 39.80 billion by 2028, at a CAGR of 9.67% during the forecast period (2023-2028).
Key Highlights
The demand for e-bikes has surpassed that of conventional bikes in certain European countries, such as France, Italy, Germany, and the Netherlands. The fitness and leisure segments have driven the European bicycle market, as more people are using bikes for recreation and exercising, leading to steady growth in the medium to long term. Moreover, the increasing popularity of cycling events and the versatile application of bikes in trekking and recreational activities are also expected to propel the market's growth.
With growing environmental concerns and aggressive marketing campaigns, the trend towards eco-friendly transportation is encouraging more people to opt for cycling as a means of commuting. The increasing demand for e-bicycles is driven by the growing focus on body fitness and health consciousness among consumers. According to the Spanish Bicycle Industry Association (Spanish: Asociacion de Marcas y Bicicletas de Espana ((AMBE)), e-bicycles are the most popular electric vehicles in Spain, with over 220,000 units sold in 2021.
Leading companies in the industry are focused on expanding their brand presence in the region through mergers, acquisitions, partnerships, and new product developments. For example, Hero Cycles, a brand under the Hero Motors Company Group, delivered its Made in India e-bikes to Europe in June 2021, marking the company's entry into the European market.
Europe Bicycle Market Trends
Increasing Number of Cycling Events
The demand for sports bicycles may experience a boost in the upcoming years due to the increasing use of bicycles for trekking, recreational activities, and the growing number of cycling events. Celebrity endorsements also play a significant role in driving demand.
According to the data by Associazione Ciclo Motociclo Accessori (ANCMA), over 3.2 million bicycles were manufactured in Italy in 2021. The e-bike category experienced exceptional growth of 25%, while the production of regular bicycles increased by 5% year-on-year, reaching 2.9 million units. Bianchi announced its ambitious plan to triple its Italian output by August 2022, and tire producers Vittoria and Pirelli expanded their Italian facilities.
A survey conducted in 2021 in England distinguished the share of people who went cycling at least once a month by gender. The survey found that 18% of male participants cycled at least once a month, whereas 8.5% of females and 13.2% of individuals identifying as other genders cycled once a month for any purpose.
Cycling events also play a vital role in promoting cycling and driving the bicycle market's growth. These events cater to different segments of the population, such as children, adults, families, and employees of organizations. For example, European Mobility Week is an initiative by the European Coordination, National Coordinators, and the European Commission to improve public health and the overall quality of life by promoting clean mobility. In July 2021, Spanish cycling enthusiasts launched quierounabici.eu, an initiative that imports Amsterdam-style bicycles to Spain. Additionally, international sports events like cycling championships encourage consumers to take up cycling, thus driving market growth.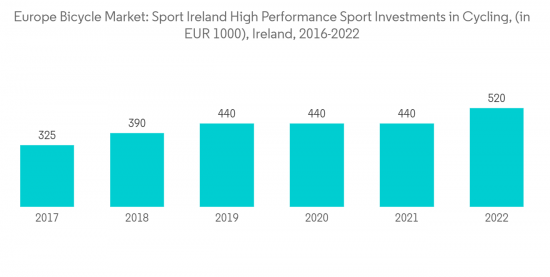 Rising Demand of E bicycles in Germany
The rise of e-bike technology has led to a shift in consumer preference from traditional bicycles to e-bikes. Both global and regional manufacturers are focused on meeting the growing demand by incorporating new technologies such as anti-theft features and smart monitoring systems to gain a competitive advantage in the market. Major manufacturers are continuously innovating their e-bike products, as demonstrated by Dott's recent launch of its e-bikes in Germany in 2021, which provide clean mobility and single-app use technology.
Government initiatives to promote e-bike sales have also contributed to market demand. According to the Bicycle Industry Association, bicycles and e-bikes reached a total of 2.37 million units in 2021, a 10% increase from the previous year. Of these, 1.43 million were e-bikes, which experienced an 8% growth in manufacturing, surpassing the production of traditional bicycles since 2019.
The construction of a car-free bicycle highway spanning 62 miles and linking ten cities and four universities in Germany is expected to further drive sales in the near future. Consumers are attracted to the convenience of this highway and the opportunity to contribute to a cleaner environment. All of these factors contribute to the growth of the e-bike market.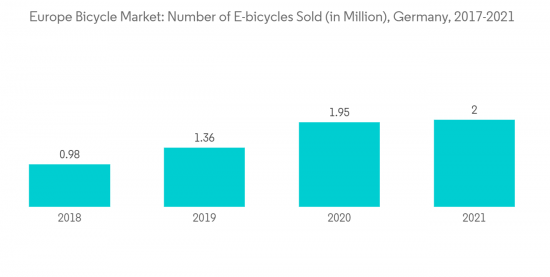 Europe Bicycle Industry Overview
The European bicycle market consists of many international and regional players, making it highly fragmented. Key players in the market include Accell Group NV, Trek Bicycle Corporation, Pon Holdings BV, Scott Corporation SA, and Giant Manufacturing Co. Ltd. These companies dominate the market and utilize strategic approaches such as mergers, expansions, acquisitions, partnerships, and new product developments to enhance their brand presence across the region.
Other leading players in the European bicycle market also hold a dominant presence in the region. The key factors determining the market players' position are the continuous launch of new products with advanced technology and high quality. Brands differentiate their products in terms of design, technology, quality, and innovation to gain a competitive advantage in the market. Thus, product differentiation is crucial for companies to maintain a competitive edge in the European bicycle market.
Additional Benefits:
The market estimate (ME) sheet in Excel format
3 months of analyst support