The Germany Chocolate Market size is expected to grow from USD 9.16 billion in 2023 to USD 10.38 billion by 2028, at a CAGR of 2.54% during the forecast period (2023-2028).
Key Highlights
The consumer buying behaviour of chocolate in Europe is based on buying chocolates on an impulse, as a treat, or to satisfy cravings for sweet confectionery. Germany remains one of the leading chocolate markets in Europe, where Germans are most likely to purchase chocolate on impulse. The trend of textured chocolate added with grains or cereals is growing among chocolate eaters in Germany. The popularity of quinoa, chia, and other grains and cereals among millennials is considerably high.
In Germany, the chocolate market is expanding. Sugar-free chocolates are expected to witness increased demand due to consumers' health consciousness. The trend of premium textured chocolate, added with grains or cereals, is growing among chocolate consumers in Germany.
In addition, the packaging is also playing a prominent role. Hence, manufacturers are wrapping their premium chocolates in innovative wraps, such as ecological packaging, especially to attract younger consumers who are highly aware of sustainability. In recent years, the vegan population in Germany increased rapidly. The trending vegan food in the developed market drives the demand for vegan chocolates. Companies are expanding their chocolate portfolios in the country to capitalize on the lucrative opportunities.
In Europe, chocolate is bought on the spur of the moment, as a treat, or to fulfill sweet tooth desires. Germany continues to be one of Europe's major chocolate markets, with Germans being the most likely to buy chocolate on impulse.
Germany Chocolate Market Trends
Growing Demand for Sugar Free Chocolate Products
The growth of sugar-free chocolates is expected to be driven by health conditions like diabetes and fitness consciousness among consumers across the region. According to International Diabetes Federation (IDF), Italy had the highest diabetes-related mortality rate in Europe in 2021, with about 173 thousand deaths among persons aged 20 to 79. Germany ranked second in the world with around 151.5 thousand diabetes-related deaths that year.
A prominent driver driving the German chocolate market is rising consumer awareness of the nutritional benefits of chocolate flavouring ingredients due to the presence of flavonoids. Furthermore, fibre, iron, magnesium, copper, and manganese are abundant in the chocolate varieties. Moreover, a molecule called epicatechin, found in chocolate and green tea, protects the brain from forming sticky proteins or amyloid plaques, which are prevalent in Alzheimer's disease.
Additionally, according to the Journal of Nutrition, chocolate consumption may help lower low-density lipoprotein (LDL) cholesterol, which is anticipated to support the growth of the market under study.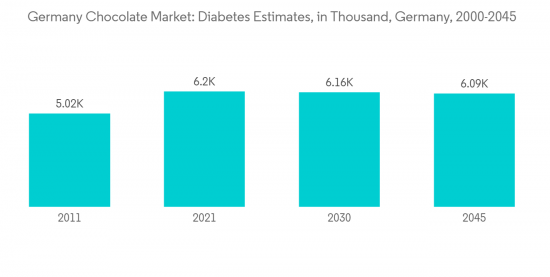 Online Channel to Foster the Market Growth
The online sales of chocolate are reported to be rising in the country. E-commerce has helped chocolate manufacturers to expand their customer base and enhance their profit margins. Chocolate lollipops are popular among children, which promotes the sales of this particular category in the chocolate market in Germany.
Most consumers in these countries opt for online retail stores, primarily due to the easy and hassle-free shopping experience. Online shopping is gaining momentum, as it is convenient for consumers to purchase chocolates online and save travel time, avoiding the store rush. With online sales playing an essential role in the chocolate market, physical stores will likely evolve their offer to attract consumers. If staples are available online, it frees up the shelf space for more "exciting" products, like organic chocolates.
Germany has one of the highest internet penetration rates across Europe, driving the chocolate market. Moreover, the major brands have been developing their online websites to provide convenience to customers. The wide variety of chocolates on online sites influences the purchasing decision of consumers. Moreover, vendors are adopting online retail strategies to reduce costs and increase their margins, which may benefit the market during the forecast period.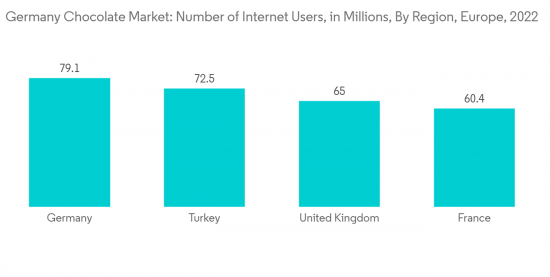 Germany Chocolate Industry Overview
The German chocolate market is highly fragmented owing to the presence of a large number of companies offering a wide range of product portfolios. Mars Incorporated, Ferrero, Hershey's, Modelez International, and Nestle are the most active companies in the German chocolate market. New product launches, mergers and acquisitions, and partnerships are a few key strategies adopted by major players like Ferrero and Nestle in the market. The market leaders have also been taking steps to expand their business, in terms of geography, by establishing new manufacturing units and strengthening their distribution network across the places. It also indulged in e-commerce contracts to expand its consumer base. For instance, companies such as Pierre Marcolini have launched their official website to deliver a specially designed range of premium chocolates that the client can highly personalize.
Additional Benefits:
The market estimate (ME) sheet in Excel format
3 months of analyst support