Our Science & Medicine Group Knowledge Center is one of the most comprehensive databases of trusted market research reports on scientific and medical markets.
Reports by Publisher:
BioInfo = 26
IMV Research = 57
Instrument Business Outlook (IBO) = 322
Kalorama Information = 739
Strategic Directions International (SDi) = 65
Reports by Industry:
Analytical Instrumentation = 66
Biopharmaceuticals = 17
Biotechnology = 95
Diagnostics = 249
Healthcare = 79
Life Sciences = 81
Medical Devices = 145
Medical Imaging = 38
Pharmaceuticals = 197
SAMPLES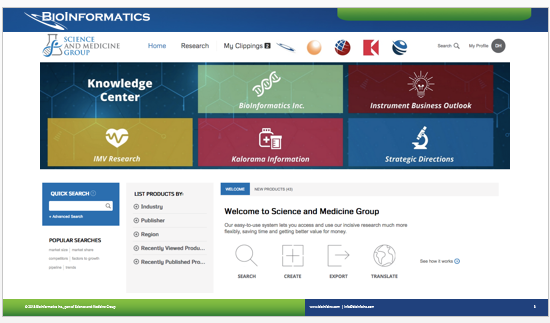 Users can search our database of reports by industry, publisher, and more.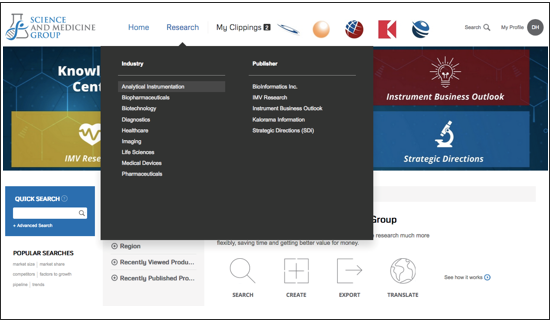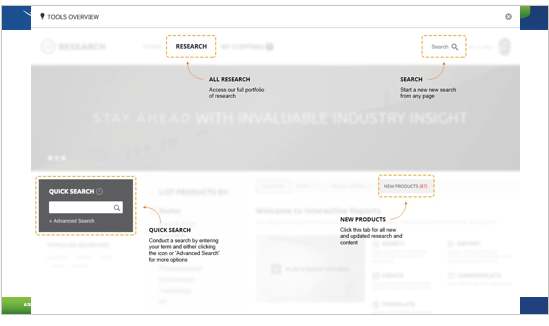 All reports purchased by your organization will be available in full (including historical IBO issues).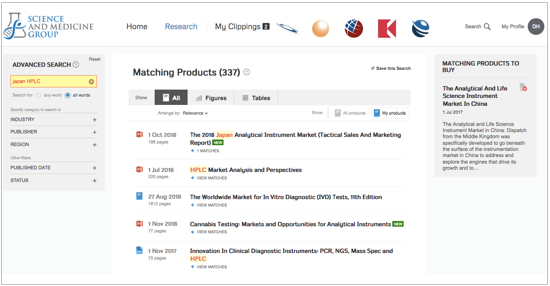 Keyword search pulls up any relevant sections of reports you have access to. No more guessing and searching across multiple files!
Search results include snippets of the reports that match your search terms, so you can quickly find the data you need.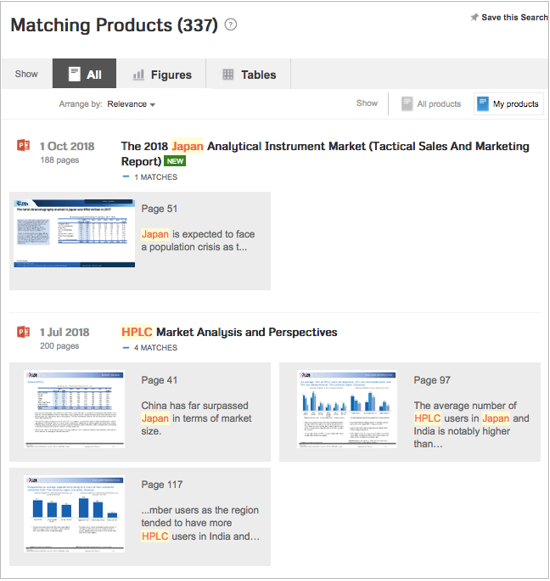 You can select a report to view and read its contents in their entirety.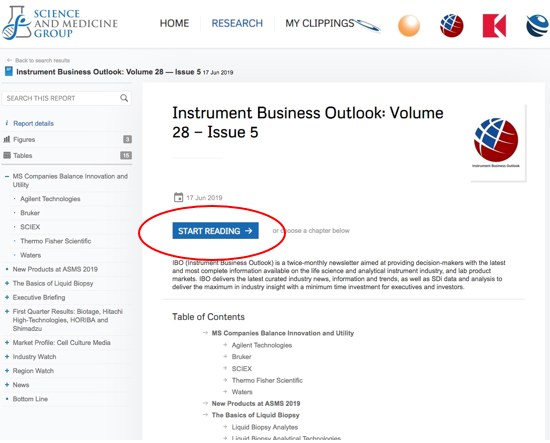 Or you can click on a snippet in the search results to jump to its location in the full report. Slides, pages, graphs, tables, and text can all be saved as clippings.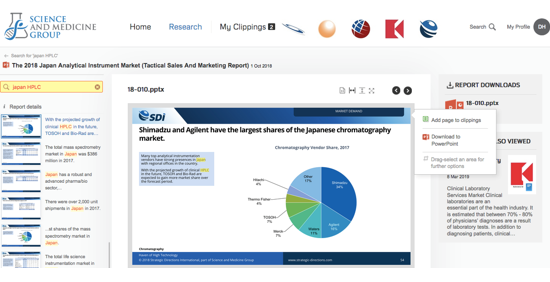 Clippings can be gathered and then downloaded as one file. Through this, you can quickly put together and export presentations using data from multiple reports.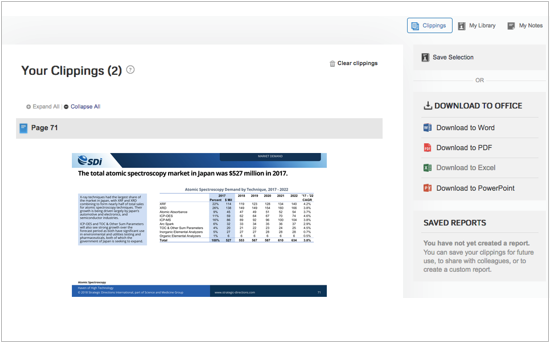 Other tools can be accessed after a report has been selected. For select titles, users can view just the data tables and figures, translate the contents, and download the entire report in specified formats.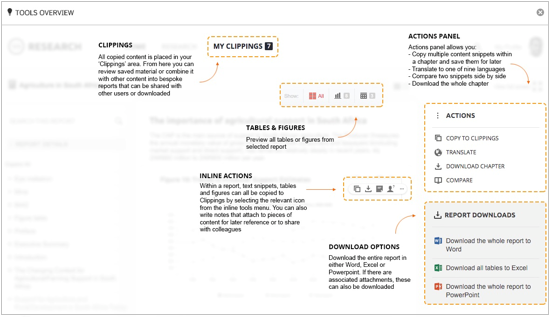 If users cannot find the data they need, searches can be expanded to include reports not yet purchased, where you can request access through your account representative.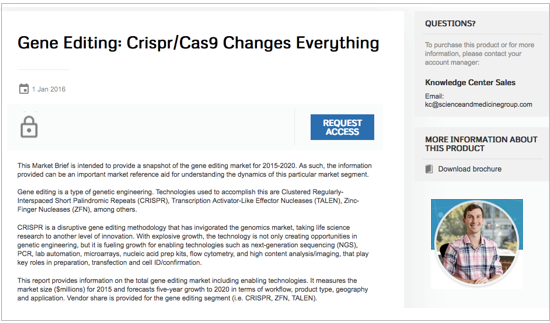 About the Knowledge Center
Science and Medicine Group Inc.'s market research reports are used by the top companies in the world to learn about prospective and current customers, find relevant market data or sizing, research competitors, or benchmark their own company's performance.
Are you involved in multiple scientific markets? Do you need quick access to data and analysis across a wide variety of topics or a deep-dive within a segment of the industry? Are you tired of searching for the right information source each time the need arises? If so, the Knowledge Center is the right solution for you. Thousands of executives and managers already use the Knowledge Center before making any decisions in marketing, corporate development, strategic planning, or proceeding with an acquisition or sale.
Our database of hundreds of reports allows you to search keywords across 100,000+ pages of research, easily export data tables to Excel, and quickly create custom clippings for internal presentations.
Our Subscription Content Offerings:
Life Sciences
Analytical Instruments
Diagnostics
Digital Health & Healthcare (including medical devices)
Pharmaceuticals & Biopharmaceuticals
Medical Imaging
The Knowledge Center Offers:
Market data and voice-of-the-consumer data from the most trusted brands in scientific market research:

BioInfo - For 20+ years, our BioInfo publishing group has published unique survey reports on life scientists' vendor experiences along with data on marketing and sales best practices.
Strategic Directions International - For 25+ years, SDi has been a source of accurate market size and growth data for the analytical instrument industry. Also the publishers of Instrument Business Outlook, a bi-weekly executive briefing, they are best known for their gold-standard annual report: The Global Assessment Report for the Life Science and Analytical Instrument Industry.
Kalorama - For 25+ years, Kalorama has published reports on the diagnostics, healthcare, biotech, pharma, and medical devices markets. The are best known for their annual, industry-renowned Worldwide Market for In-Vitro Diagnostic Tests report.
International Marketing Ventures - For 20+ years, IMV has served medical imaging manufacturers and suppliers with critical information on imaging and clinical diagnostics equipment. In addition to market data reports, they also offer custom database solutions to help with strategic sales planning and tracking of equipment service quality for major U.S. vendors.
Full text searching capability of all content and figures.
Boolean search functions and advanced search
Tens of thousands of charts and tables present market data in a visually interesting and accessible way.
Figures and tables that can be repurposed for internal memos, emails and reports.
Automatic alerts as new research is published.
A Global Site License, so all your employees have access on their computers.
Usage by department or user data for internal administrators.