The Spain Blood Glucose Monitoring Market size is estimated at USD 465.64 million in 2023, and is expected to reach USD 719.74 million by 2028, growing at a CAGR of 9.10% during the forecast period (2023-2028).
In Spain According to WHO, as of 25 June 2022, a total of 102,258,825 vaccine doses have been administered. Regardless of previous diabetes history, admission hyperglycemia is a significant predictor of all-cause death in non-critically hospitalized COVID-19 patients. Spain was among the nations most severely impacted by the COVID-19 pandemic in 2020. A total countrywide lockdown was implemented from 14 March 2020 through 21 June 2020 to limit the epidemic due to an increase in instances. The government reinstated a state of emergency on October 25 due to a return of cases after a nearly 4-month period during which certain restrictive measures had been lifted. This included partial lockdown measures with movement limitations that would extend until May 9 of 2021.
Critical elements of the therapy of type 1 diabetes include medical devices (T1D). Devices include insulin pumps, continuous glucose monitors (CGMs), and blood glucose meters. These gadgets are linked to better glucose management and decreased hypoglycemia.
Spain Blood Glucose Monitoring Market Trends
Increasing Type-1 diabetes population across Spain
Over the forecast period, the population of people with type 1 diabetes in Spain increased at a rate greater than 3%. In 2021, over 0.35 million people will live with type 1 diabetes. Diabetes is thought to affect up to 13.8% of adults in Spain, with approximately 6% having undiagnosed diabetes. Similar prevalence rates have been observed in Spain's five million-person Valencian Community. In this field, primary care physicians monitor most diabetic patients and work closely with endocrinologists to handle more complicated cases. Numerous studies have found that people with diabetes are more likely to have severe COVID-19 episodes, have poorer outcomes, and have a higher mortality rate. The SED expects the fatality rate to increase, as the mortality risk for the diabetic population in Spain is estimated to be around 7.3%, compared to 0.9%-3% for the non-diabetic population.
As a result of the factors above, the growth of the studied market in Spain is anticipated.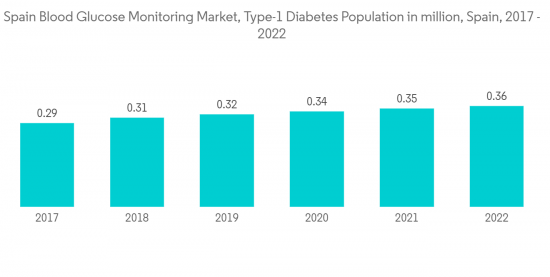 Continuous Glucose Monitoring Holds Highest CAGR in Spain Blood Glucose Monitoring Market.
The COVID-19 pandemic emphasizes the need for good glycemic control in patients with diabetes, largely because most observational studies have reported that poorly controlled diabetes is associated with a higher risk of hospitalization and death from a viral illness. The frequency of monitoring glucose levels depends on the type of diabetes, which varies from patient to patient. Type-1 diabetic patients need to check their blood glucose levels regularly to monitor their blood glucose levels and adjust the insulin dosing accordingly. The current CGM devices show a detailed representation of blood glucose patterns and tendencies compared to a routine check of glucose levels at set intervals. Furthermore, the current continuous glucose monitoring devices can either retrospectively display the trends in blood glucose levels by downloading the data or give a real-time picture of glucose levels through receiver displays.
The use of CGM by Type-1 diabetic patients is very less as compared to Type-2 diabetic patients. But the expenditure of
Type-1 diabetic patients on these devices are nearly double that of Type-2 diabetics. The newest CGM models, the Abbott Freestyle Libre and the Dexcom G6, overcame many technical barriers. However, high costs and uncertainties about their efficacy and necessity have kept CGM from being widely used by people with Type-2 diabetes. Continuous glucose monitoring devices are becoming cheaper with new technologies, like cell phone integration.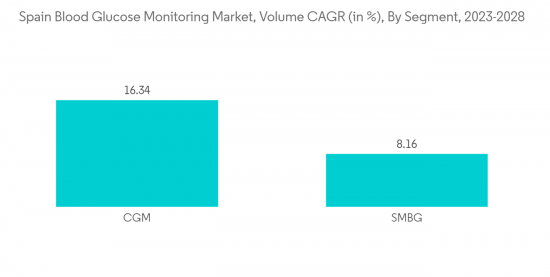 Spain Blood Glucose Monitoring Industry Overview
The blood glucose monitoring market is highly fragmented, with few major manufacturers present in the market. The CGM devices market is dominated by a few major players, like Dexcom, Medtronics, Abbott, and Senseonics. The market for BGM devices comprises more generic players like Roche, LifeScan, Arkray, Ascensia, etc. Technological innovations in the recent past helped the companies to strengthen their market presence.
Additional Benefits:
The market estimate (ME) sheet in Excel format
3 months of analyst support